So I want to share about my thoughts about

THE EDITORS MARKET.---


The first time I found the editors market whoa!awesome…

I know this brand which is the editors market from instagram.So while I open explore on instagram,I found one picture that shows an outfit display that looks so-my-style then I'm curious of what is it I open the instagram account.Oh.. I found out that it's an Instagram accout of a brand and it called the editors market.Then I check a couple of their photo with their stunning feeds and I'm in love with it,without any thinking I just follow the instagram accout.
Powered by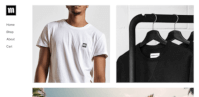 Create your own unique website with customizable templates.